by Edward Steen, Secr. General. Vienna March 28, 2022
The best, perhaps only, joke circulating about the ghastly débacle in Ukraine concerns the mysterious disappearance of defence minister Sergei Shoigu halfway through the now month-long "special military operation" (ie war) in Ukraine  Normally a fixture on Russian tv, the 66-year-old warrior reappeared in a video showing Putin's close pal and hunting companion chairing a meeting on the weapons budget.
Not everyone is buying this undated sort-of-reappearance in an official There have evidently been rumours. One joke circulating in Vienna is of a conversation between the special  mystery-man and his boss. Shoigu: "Vladimir, if I decide to commit suicide you will tell me, won't you?" (in the original German: "Du, Wladimir, wenn ich mich entschliesse Selbstmord zu begehen, sagst du es mir, gel?")
The Kremlin has brushed aside such speculation Shoigu's prolonged absence.
Another rare moment of levity was the Ukrainian government spokesman's lament about thousands of half-starved cats and dogs left behind and the warm-heartedness of the Ukrainian people. One woman, he said, rushed to find food, any food, for a ravenous dog only to discover it was actually a wolf.
All western media reports suggest the  "special operation" is going badly, with the strong implication of low morale, and heavy losses of men and equipment. No major city has yet fallen to the Russian advance.  CNN reported on a briefing in Lviv from Colonel General Sergei Rudskoy, first deputy chief of Russia's General Staff.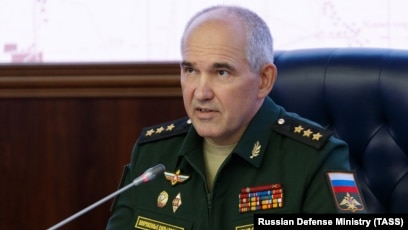 "In general, the main tasks of the first stage of the operation have been completed," Rudovsky said. "The combat potential of the armed forces of Ukraine has been significantly reduced, allowing us, I emphasize again, to focus the main efforts on achieving the main goal – the liberation of Donbas." The clear implication was that Russia would try not to lose too much face by focussing its efforts not on conquering the whole country, but "liberating" Donbas, to the east, with its two self-declared Russian-speaking "republics". 
That view was endorsed in the latest live NYT reports, though it said Russian forces redoubled attacks on strategic targets across Ukraine yesterday, with fierce fighting
continuing around the capital, Kyiv, and signs that the besieged city of Mariupol was close to falling. Anastasia Lapatina from the Kyiv Independent reported on Twitter: "Russians forcefully deported around 20,000-30,000 Ukrainians from #Mariupol to Russia or occupied territories in Ukraine. In occupied Donetsk, locals reported seeing many children without parents. If they don't have family in Donetsk, Russians allegedly take them to Taganrog."
The tragic, brutal fate of Mariupol is coming to resemble that of Picasso's haunting painting Guernica destroyed during the Spanish civil war, an unendurable symbol for the first, horrible war of the 21st century.
LINKS: