by John Hyde of the Law Society Gazette
Oligarchs trying to protect reputations instruct London lawyers because they are intimidatingly expensive, MPs told
Journalists who have investigated super-rich individuals with links to the Russian regime also claimed that clients do not even realise some of the tactics employed by law firms trying to prevent publication of books or articles.
Solicitors have come under fire from politicians, journalists and freedom of speech campaigners over so-called 'SLAPP' litigation, designed to string out litigation, increase costs and ultimately stop their clients' activities being reported. It has come under increased scrutiny since the Russian invasion of Ukraine, as focus turns to oligarchs with possible links to the Kremlin and efforts to silence those writing about them.
Appearing before the foreign affairs select committee yesterday, Tom Burgis, a journalist at the Financial Times, said the biggest threat to free speech now came from lawyers acting for individuals seeking to protect their reputation. He said law firms were leading a 'war by costs' and forcing those seeking to highlight corruption into submission.
"Our biggest obstacles are not hit squads or cyber attacks, it is firms in London working day in, day out to attack free speech in the interests of very rich and powerful people who rightly deserve scrutiny," said Burgis, who named Carter-Ruck, Schillings, Mishcon de Reya and Taylor Wessing as among the firms who have sought to pressure and intimidate journalists into dropping stories. The firms have denied any wrongdoing.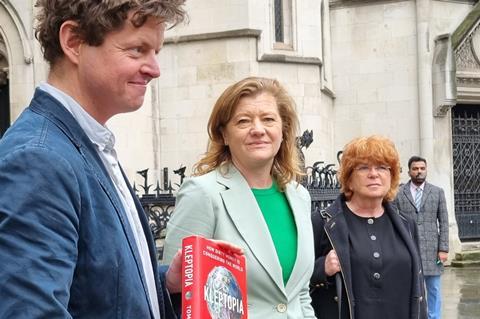 "Many journalists will recoil and walk away from a story – even really courageous ones – when a letter from one of these firms comes in," said Burgis. "It is because you risk humiliation in the public sphere. The letters go to your address, your publisher, your lawyers and you are cast as the most monstrous, scheming, corrupt version of yourself. That's how it works."
Burgis said lawyers were the 'tip of the spear' for making someone's past off limits, but he added that they could work with impunity in terms of costs, knowing they will recoup their fees whatever the outcome. "We have had discussions with a lawyer who is horrified at the way his profession is going and who says this is not going to change while all the financial incentives of the law firms are just to rack up huge costs – those costs themselves are the chill, they are the weapon."
Burgis said he was placed under surveillance whilst investigating his story but suggested oligarch clients did not always know these practices are happening.
Catherine Belton, another journalist who appeared alongside Burgis, agreed with committee chair Tom Tugendhat when he asked if British courts were being used "as tools of intimidation."
Susan Coughtrie, project director at the Foreign Policy Centre, asked why solicitors did not enquire about the source of their clients' wealth and said the SRA should clamp down on firms who "are not doing their homework".
"Wouldn't a big clue [that the funds were unlawfully obtained] be the fact that [clients] are seeking to take legal action against journalists who are investigating them for financial crime and corruption? There are certain cases where you could clearly put a question mark over where the money is coming from – lawyers could do more to do that."